We keep increasing our scope.
In its quest for continuous improvement of its services our food and feed laboratory AGROLAB Ibérica in Burgos is now able to carry out more chemical and microbiological tests.
We have successfully passed the audit carried out by the National Accreditation Entity (ENAC), according to the UNE EN-ISO 17025: 2017 standard and with regard to tests on food products, feed and surfaces.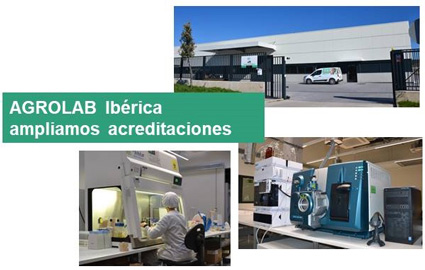 The new accredited determinations are:
Determination of water activity by electrometry
Determination of Sugars by ion chromatography
Determination of lactose by ion chromatography for lactose-free foods and surfaces
Determination of allergens by ELISA: gluten, egg, milk and soy in food
Determination of allergens by PCR: fish, mustard, celery, pistachio in food, feed and its raw materials and surfaces
Determination of transgenic plant material (p-35S, t-NOS and p-FMV)
Extension of microbiological tests with Salmonella and Listeria monocytogenes by PCR
This expansion allows us to respond to the needs of the market, offering a reduction in our delivery times, a key factor for all our customers.
It also represents recognition of the technical competence, dedication and effort of the professionals who carry out their work at AGROLAB Ibérica.
Our customer service (CRM) will be glad to expand this information to you, just in case.
Autor: Itziar Miguel