The BfR consumer monitor is a representative population survey that is carried out every six months and provides an opinion poll of the population on questions of consumer health protection. Topics such as salmonella, GMOs and antibiotic resistance are the focus of consumer attention.
The survey results show what consumers are currently doing and how their perceptions are changing. This information can, for example, provide valuable information for the food industry on what needs to be taken into account in production, quality assurance and marketing in order to maintain consumer confidence. Scandals such as the recent one in the meat processing sector have measurable effects on consumer behaviour and can influence purchasing behaviour.
In the current survey, the results of which have just been presented, it was found that, compared to the previous survey in February 2019, the topic of "antibiotic resistance" is now known to a larger proportion of the population, just behind the topics of "salmonella" and "GMO". Consumer concern about health risks from moulds has also increased. The term "listeria" is still known by 47% of those surveyed. According to the latest scandals, the proportion will certainly increase in the next six months.
The majority of those surveyed rate the food traded in Germany as "safe" or "rather safe" (76%), although 44% assume that the quality of the food will tend to decline and only 16% expect quality improvements. Similar values were found in the question of food safety. Here, too, sceptics predominate.
The AGROLAB seal supports you in maintaining the trust of your consumers.
It will be as important as it will be in the future to continuously check the hygiene and product quality through meaningful and regular self-checks in food production. With the AGROLAB seal on your product, your efforts in this regard will also be clearly documented for the consumer and will mean the decisive impulse to buy in favour of your products.
If you are interested in the AGROLAB test seal, please contact us and we will develop a product-specific test plan together with you.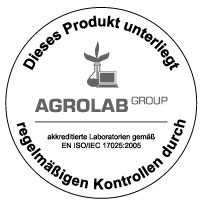 Read more:
Author: Dr. Frank Mörsberger
Back: